Eugene, Oregon Dining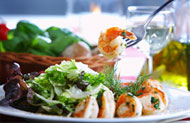 Experience adventures in dining in Eugene, Oregon, where you'll find fabulous food within walking distance to our hotel. A melting pot of cultures of cuisines, Eugene is home to wonderful restaurants, cafes, eateries, and brew pubs just minutes from our doors.Whether you love fresh Pacific Northwest seafood, smoky barbeque, Mediterranean or Mexican, Eugene has a dining destination for every craving. Dig in!
Eugene Oregon Restaurants -
We are located within walking distance to many wonderful Eugene restaurants and cafes. Indulge in fresh Pacific seafood at Fisherman's Market and enjoy delicious Italian cuisine and swinging live jazz at Jo Federigo's. Here are a few of our favorite Eugene dining spots.
Taco Loco

-

Mexican/Salvadoran

- 1 block

Jade Palace

-

Chinese/Delivery

- 1 block

Fisherman's Market of Eugene

-


Seafood - 1 block

Burrito Boy

Tacqueria - Mexican

- 1 block

Cafe Soriah

-

Mediterranean

- 7 blocks

Chao Pra Ya

-

Thai

- 1 block
Cozmic Pizza

- 3 blocks

Jo Federigo's Restaurant & Jazz Club

-

Italian

&
Live Music

Yukon Jack's Steakhouse & Saloon

-

American/Steaks/Bar

Olive Garden

-

Italian

- 1.5 miles